2 BULLIES Hello,
This is my first attempt at a web site. Bare with me as I try my best to make something worth looking at.
Here is Dozer and Angel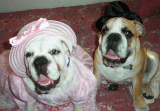 Dozer and Angel live in Illinois with their friends Rizzo (min pin), Max, Lucky (cats), and Buster (chinchilla).

Dozer
Dozer is our second bulldog. We brought him home in June. He is very laid back. His favorite hobby is sleeping. When he's not sleeping he loves to take naps. He will occasionally play tug of war with his sister Angel, but he is no match for her.
Angel
Angel is our third bulldog! She is Dozers sister. We brought her home in august. Angel is a ball of energy. She spends her days tormenting all the other animals and trying to wake her brother up. Angel is without a doubt the alpha when it comes to the animals.


Dozer and Angel's friend Goliath
If you have a chance, please check out Dozer and Angel at this site. There is tons of cool bulldog stuff here.
Lord Goliath's Bulldog Domain